I made this with the idea coming from my new stampin friend Rachel Spano and her Hubby Jason ( You guys ROCK!)

Rachel mentioned that her hubby thought it would be cute to make this holder made with the face from the PICK A PETAL stamp set .. You can see the card that this idea came from HERE Plus watch the video there also . Jason mentioned that we could put something inside the holder to help with someone feeling under the weather .. something like a Vitamin C drink, or something I thought of was maybe chicken soup etc... But all I had were these Crystal light orange packets at the time . I think it is still cute as can be
.. Thanks guys for your awesome idea .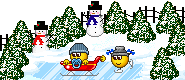 Yesterday Jessie and I went to the medical clinic her for a sore throat and me for the lower part of my calf well it turns out I have a infection and Jessie is fine BUT here comes the BAAAADDD news I had to get a BIG HUGE SHOT IN MY BUM Ouchie man that thing hurt so bad But I put my big girl panties on yesterday and didnt even cry Boo Hoo ( I sure wanted to though) as soon as the needle came in the room Jessie was out the door~
Gee whiz where's the support when I need it anyway ? I swear that thing felt like a sledge hammer on my bum Funny thing was that the nurse said is was going to hurt and I just laughed

( silly me ) geezzzz oh petes I haven't had a shot in my bum in over 2 decades and how bad could it be, I mean really I give my self injections with embrel twice a week in my thigh for my RA. BOY was I in for a shock !

after about 20mins of rubbing my butt cheek and not sitting down it seemed to be alot better.. Now I have to take antibotic for 10 days HUMMM Why couldn't he have just given me the pills without that SHOT ?

well I go back today and have a check on my leg and all I got to say Is I will NOT NOT NOT get another Shot No way No how !

It was terrible OH the pain... OK well maybe not as bad as my 2 knee replacements BUT it still HURT !

Now I have a reason to take a picture of my bum and send it to hubby wink wink !

I know he would have stayed in the room with me

. Hey,I do not usually call "It" my bum.. I have to remember I have younger audience (I have been told ) that visits my blog ( Love those little ones that love to stamp along with me too!)
Hi little guys & gals!

Thank you for visiting me today ( I think I got my fix for the smiley Faces in for the week )

ok just one more for the day . I will catch you all again tomorrow.
Until then ... Happy Stampin!!