Hey did you know Tommorrow is a holiday ??

YUP Oct 7th is a Fabulous day NOT only is it my 3 yr anniversary for being a demo with Stampin'Up! But that it is special holiday also .. Its the 1st annual National card making Day

check it out here
National Card Making Day
at paper crafts magazine Blog and read what Stacy Croninger ( towards the bottom of the blog ) has to say ... YAHOO a double Great day to be a stamper for me Tommorrow .... CHEERS to making your fabulous creations today and brightening up someones day with your art work...
Todays projects is from my event tonight called Cover to Cover .. How exciting that we can make so many things other than scrapbook pages and greeting cards HUH? everyone thats coming gets to use different designer paper double sided and I cant wait to see how everyones projects turn out . For my projects I used the designer series double sided paper called "Play house " my projects tonight will have very minmum stamping thats only because each gal will be using different paper so It would be difficult to bring every stamp set to fit every project design .. I am Very excited about tonights event .
Daughter is spending the night over her friends house tonight and they will be heading to the Car wash fundrasier in the morning .. she is loaded down with everything to take to school today ( over night bag, cookies (for fundraiser) and car wash bucket w/ sponges and soap, and then her reg. school back pack.
last night Hubby had a brain storm of an idea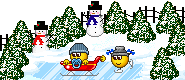 .. he wanted to fix our hot tub cover

( since the one on there was like a HUGE-O Sponge-O) seems over the years the cover/lid had been obsorbing the moisture and just being out in the weather its taken a beating .. well to make a long story short he didnt fix it so Now we are on a mission to purchase a new cover .. any ideas where to get one very inexpensive ?? please share we are seeing them for around 400.00

OUCH!! thats way to much, may just throw a tarp over it

..JK
I am 3/4 of the way done

and I have learned so Much I highly recommend this book to everyone ..
another GREAT quote from Vickie is this and sooo true it is ..
"Too many people expect the "payoff " without paying in ..Thats why casinos and the Lottery are so popular, Because people want the winnings without the work . I believe in creating my own lottery. The harder I work the luckier I get. I ensure my success by going BEYOND what most people are willing to do "
Until later ... Happy Stampin!