Yesterday was a super fun stampin day for me

.. I made so many projects. so please stay tuned this upcoming week I got lots to post YAHOO!
My card posting today is very simple and sweet. I made this yesterday and when I was making it I was wanting something I could add to it ( didnt know exactly what at the time ..) thats UNTIL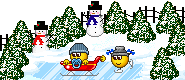 .. I found these self ahesive body tattoo's .. I know HUH? of all things I would find these .. BUT it sure does add some Bling Bling Yea baby ..I got to use so many of my new goodies I resently got from SU! and todays upload is using the Sassy stems set I got a week or so ago.. Love this set for watercoloring

..Which is what I did for this card.. I used the aqua painter and reinkers of Pixie pink and Cool caribbean & used our watercolored paper and I used the same Cardstock in Pixie pink and Cool Caribbean as the reinkers , I also used the New Pasiley and the Aida Backgounds for this card .. and then of course did some more fun doodles ..

still lov'in those doodles
BUT it doesnt stop there..
I had a thought I would try my hand at ATC cards ( Artist trading Cards ) these little babies measure 3 1/2 X 2 1/2 are all the rage Now..Click Here For the template to get many ATC cards from 1 piece of Cardstock . I had never made them before( Dont know why either )

.. that was until Yesterday ..I used the same theme as my full size card above ..So when I made a few of these ATC cards I wanted to use the simular design BUT the BLING on these I used SU! vintage brads ( silver diamond shaped). I am planning on taking these to swap at regionals in Lansing also ..

so here is the set of cards together even though It didnt start out as a set .. But what a cute group of goodies huh?

Until later ....happy Stamping !